Admission Criteria
MFSON has a core purpose to educate students for success. The admission process at MFSON evaluates students and makes admissions decisions to best identify students for successfully completing the ADN program. The Admission committee will consider all qualified applicants for entrance into semester 1 and the final selection into semester 3.
The admission process for the ADN program is a two-phase process. Students must first be granted admission to North-West College (semester 1) and then officially into the nursing program beginning in semester 3. It is the student's responsibility to follow the process and ensure all parts of the two-phase process are followed. Missing information or documents will result in denying admission.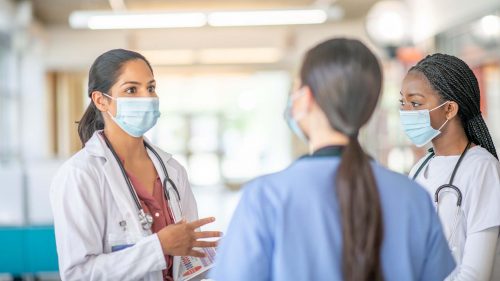 Admission Criteria
Request Information
Fill out a short online form and one of our Admissions Representatives will reach out and answer all of your questions.
Apply Online Now!
Ready to make your decision? You can apply online now in less than a few minutes.
Schedule a Tour
Come and see us in person! Talk to your future instructors, meet your future classmates and get familiar with your new home.
Policy for Admission to ADN Program and the LVN to ADN pathway at MFSON
The admission of students and the criteria developed will be evaluated annually to determine if criteria for admission and student success is consistent. MFSON ADN program has three admission periods each year: spring, summer, and fall. The process of admission of students is a two-phase process. The first phase involves enrollment and acceptance into the college and semester 1 (pre-nursing). The second phase consists of official acceptance into the ADN program beginning with semester 3. Criteria for acceptance into each phase is outlined below.
Admission criteria and process for phase one: The student will need to meet the minimum academic requirements and additional requirements by the prescribed deadlines to become eligible candidates, as follows:
Complete an on-line nursing application.
Attend an information session provided by the Admissions Coordinator. Information sessions are offered frequently throughout the year.
Take the Wonderlic/Scholastic Level Exam (SLE) and pass with a minimum score of 20. This exam is free and administered through the college. This exam is a national standardized exam recognized by the U.S. Department of Education. The exam measures cognitive ability. Items include word comparisons, antonyms, dates and times, folding boxes, graphs, number comparisons, simple math, sentence forming, rotational series, syllogisms and others. The test questions are carefully arranged in order of difficulty, beginning at a modest level and progressively increasing in complexity. Applicants who score below 20 may repeat the SLE once after a 14 day waiting period. Applicants not passing on their second attempt are not eligible for admission to the ADN program.
Submit required documents:

High School Diploma and transcripts; or GED General Education Development (GED) certification, or a foreign degree that is credentialed for 12th grade proficiency must send official transcripts to the Registrar's Office. Transcripts may be mailed, or hand-carried, unopened, and official seal.
Applicants with any college experience must submit all official college transcripts by sending via US mail or electronically directly to the Admissions Coordinator; Transcripts must be official and in sealed envelope if delivered via US Mail.
A minimum of two letters of Recommendations on letterhead. These letters can be from a former faculty or a professional relationship. No letters from personal friends, or family will be accepted.

Take TEAS exam at GCC and pass with a minimum composite score of 60. You may repeat the test twice within a 6 month period.

**Applicants not passing TEAS are not eligible for admission.
**For students admitted during 2020, the TEAS test will be postpone until mid-semester of second semester of general education.

Meet with the financial representative to understand potential cost and plan for payment.
Applicants meeting the above criteria will be granted an interview with the Admissions Committee.
Once accepted into phase one (pre-nursing), any students with potential transfer credit through course equivalency, prior experience, or challenge exams must review the Transfer Credit policy and notify the Admission Coordinator immediately and at least 6 weeks prior to the start of the semester 1. (See Transfer Credit Policy)
Students who have successfully passed courses in semester 1 and currently in good academic standing in semester 2 may proceed to the second phase of admission process.
Phase two: Official admission into the ADN program or LVN-ADN pathway
Policy for Admission to the ADN Program (Step 2) Space is limited in the ADN program (semester 3-6). Only students who have completed required courses with a C or better in semester one and in good academic standing in semester two will be considered for provisional admission into phase two. The following criteria and process is utilized for phase two:
Write a personal statement and submit to the Dean of Nursing/ or designee. Personal statement should be limited to 500 words or less; focus on learning strategies, and plan for success.
Pass a drug screen and background check. (See list of health and safety requirements below).
Complete the health and safety requirements outlined by nursing program. Health and Safety requirements are list of requirements.
The final selection will be based on academic standing, TEAS scores, personal statement, passing drug screen/background check and completion of health and safety requirements.
Should there be more student applicants than space allows, students will be given the option to be placed in the pool of student applicants for the following semester. Students in the pool will be competing for space. Priority will be given to students who have taken all their pre-requisite courses at GCC and students with the highest academic standing. No students are guaranteed a space and may opt to be removed from the pool of applicants for the second phase.