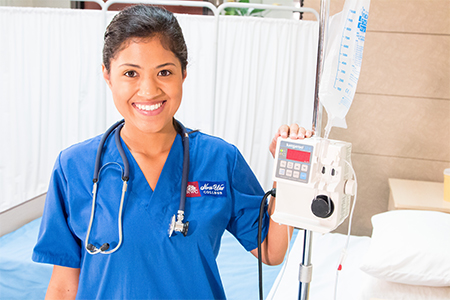 Vocational Nurse
Providing direct patient care
Student Success Stories
"I came to North West College Riverside campus not knowing what I wanted to do in life. I learned to have compassion and understand the patients. I have a job now as a medical assistant and all I could say is I'm very grateful that I attended this college."
Elizabeth V. Ruiz, Medical Assistant
"Tell us your story!
How did your experience at North-West College help you? Did our career services team help you find a job after you graduated? Have you been promoted to a new position?
If you have a story you would like to share, we would love to hear it! "
North-West Family
"Thanks to North-West College, I've had the opportunity to acquire skills that I needed to be successful! Thanks North-West!"
Gabrielle Maria Romero
"I developed great self-esteem working with the staff and instructors of North-West College. They helped me so much I was able to move back to my home state and was employed by the first employer I submitted my application with. Thank you so much for the learning experience that I received from your school!"
Diantha Polley, Medical Assistant
Vocational Nurse Careers
Work Environment
The Vocational Nursing program at North-West College provides the education and training needed to begin a career working in a variety of different medical and health care facilities.
Graduates of the Vocational Nursing program routinely discover entry-level employment opportunities in a variety of health care related facilities, including:
Medical clinics
Physicians' offices
Skilled nursing facilities
Residential care facilities
Hospitals
HMOs
Correctional facilities
Government health organizations
Home health agencies
Quick Facts about Vocational Nurses*
Employment of Vocational Nurses is projected to grow 16 percent nationally from 2014 to 2024, much faster than the average for all occupations.
Many procedures that once could be done only in hospitals are now being done outside of hospitals, creating a greater demand for Vocational Nurses in other settings, such as outpatient care centers.
As the number of individuals who have access to health insurance continues to increase due to federal health insurance reform, more LVNs and LPNs will be needed, particularly in ambulatory care settings, to care for the newly insured who seek primary and preventative care services.
Most Vocational Nurses work full time. Many work nights, weekends, and holidays, because medical care takes place at all hours. They may be required to work shifts of longer than 8 hours.
*Source: https://www.bls.gov/ooh/healthcare/licensed-practical-and-licensed-vocational-nurses.htm
More information, including median wages and the job outlook for Vocational Nurses in California can be found in the California Occupational Guide published by the State of California Employment Development Department. For the latest national information, please visit the U.S. Bureau of Labor Statistics.
Get started now!
Learn more about North-West College and our programs.