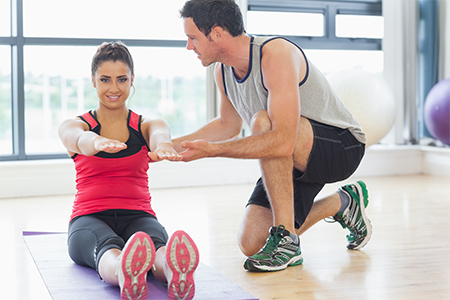 Professional Fitness Trainer
Encouraging others to lead healthy lives
Student Success Stories
"Thanks to North-West College, I've had the opportunity to acquire skills that I needed to be successful! Thanks North-West!"
Gabrielle Maria Romero
"I came to North West College Riverside campus not knowing what I wanted to do in life. I learned to have compassion and understand the patients. I have a job now as a medical assistant and all I could say is I'm very grateful that I attended this college."
Elizabeth V. Ruiz, Medical Assistant
"Tell us your story!
How did your experience at North-West College help you? Did our career services team help you find a job after you graduated? Have you been promoted to a new position?
If you have a story you would like to share, we would love to hear it! "
North-West Family
"I developed great self-esteem working with the staff and instructors of North-West College. They helped me so much I was able to move back to my home state and was employed by the first employer I submitted my application with. Thank you so much for the learning experience that I received from your school!"
Diantha Polley, Medical Assistant
Professional Fitness Trainer Course Material
The Professional Fitness Trainer Program will prepare the students for an entry-level position in the fitness field. It offers students the opportunity to obtain the knowledge, skills, and techniques needed to function in the fitness industry.
Personal trainers provide assistance to those seeking to improve their personal health, fitness, and athleticism through exercise and nutrition. Most fitness positions are found in gym settings, physical fitness centers, or in concert with wellness or rehabilitation centers. Instructional Delivery Method: Residential.
Although not required to work as a Personal Trainer in California, graduates of this program may seek to become a National Academy of Sports Medicine certified Personal Trainer (NASM- CPT). To do so, you must pass the examination offered by the National Academy of Sports Medicine Certified Personal Trainer (NASM-CPT) examination.
The Professional Fitness Trainer Program at Glendale Career College provides training and instruction for students to prepare for the National Academy of Sports Medicine Certified Personal Trainer (NSAM- CPT) and Corrective Exercise Specialist (NASM-CES) examination.
Courses for this program include:
Seminar for Success - Orientation and success building course for Career Students. Review of basic math, language, vocabulary, and writing skills. Introduction to core career classes,availability of community resources, outlining, summarizing, managing credit and other life skills
Concepts of Integrated Training - This course will provide in-depth study to the interdependent and intradependent relationship of the components to integrated training. Specifically, students will focus on theory and systematic, progressive application of flexibility training core training, balance training, and plyometric training
Design of Fitness Program - Students in this course will study the practice of resistance training to enhance neuromuscular function and development and design goal-specific Optimum Performance Training fitness programs, stabilization programs, strength programs, power programs, and cardiorespiratory training programs. Additionally, this course provides in- depth study of the theories and progressive applications of linear speed, multi- directional agility, and quickness activities.
Human Movement Assessment - Paramount to student success is the comprehension and application of a dynamic relationship between the articular system, muscular system and nervous system. Students in this class will explore a detailed look at anatomy, physiology, and kinesiology and will apply that gained knowledge to a variety of assessments intended to evaluate the existence and impact of human movement impairments
Nutrition & Supplementation - Students in this course will be exposed to the theories and principles of integrated training and the Optimum Performance Training model. Of particular focus will be the study of nutrition and the healthy composition of diet. This course will also explore the efficacy and practice of dietary supplementation as well as professional ethics and boundary-setting applied to the health and fitness industry
Professional and Career Development - Students will concentrate on various strategies that include job search, resume´ formats, necessary pre-employment letters, and interview techniques. The students will develop effective communication skills to interact professionally with clients and colleagues.
Leadership, Business, and Sales - Students in this course will learn how to become successful business owners. In addition, students will learn basic business principles and how to create a successful career as a personal fitness trainer. Students will also learn about office productivity software, marketing materials, resume´ development, business-plan development, licensing, and continuing education in the fitness industry.
Exercise Psychology & Lifestyle Coaching - Students in this course learn the basics of personal and professional leadership as well as motivational and situational techniques to use during interaction with clients to enhance positive behavioral change. Students also learn how to apply a holistic, integrated, principled-centered approach to organizing personal lives and motivating people to be physically active. In addition, students learn the effects of planned stress (e.g., exercise) and recovery (e.g., sleep, massage) on mental health, physical performance, and health-related quality of life. This course lays the foundation for students to effectively promote personal training and as part of a healthy lifestyle
Exercise Physiology - Students in this course learn about the physiological adjustments that occur within the body during exercise. In addition, students learn about the physiological systems as they are affected by physical exercise, including observations of respiratory, circulatory, nervous, and metabolic adjustments to physical exercise
Special Populations Fitness Prescription - Students in this course will learn and practice the skills and knowledge to develop fitness programs for clientele requiring special considerations. Populations to be studied include youths, seniors, pregnant women, obese people, diabetic people, those with osteoporosis, those with arthritis, and those with increased cardiorespiratory disease risk factors
OPT™ for Sport-Specific Training (LAB) - This lab is the practical application of program design for sport-specific clients. Students will be able to design cardiorespiratory training programs, power OPT™ programs, and programs for clients who participate in individual competition or team sports. Students will apply principles of reactive neuromuscular training (plyometric) and integrated speed training to help clients achieve their established goals
Certification Exam Preparation - This course provides the student with tips and essential skills to take and pass the NASM- CPT (Certified Personal Trainer) nationally accredited certification examination. This course provides the student with how to prepare for the exam and a comprehensive review of the requirements to demonstrate proficiency in the performance domains of Basic and Applied Sciences; Assessment; Exercise Technique and Training Instruction; Program Design; Considerations in Nutrition; Client Relations and Behavioral Coaching; and Professional Development, Practice, and Responsibility. The certification test will be presented during the last class session, and students who successfully complete the training will receive the NASM-CPT designation
Advanced Fitness Nutrition - Students in this course learn about the physiological adjustments that occur within the body during exercise. In addition, students learn about the physiological systems as they are affected by physical exercise, including observations of respiratory, circulatory, nervous, and metabolic adjustments to physical exercise
Lifespan Fitness Solutions - This course will expand market reach and growth opportunities by applying appropriate and relevant exercise selections to populations with special considerations
Essentials of Corrective Exercise - This course will present an evidence-based approach to corrective exercise, the components of a comprehensive solution, and the practical know-how to develop and implement integrated strategies to improve common movement impairments. Students completing this course will be prepared to take NASM's Corrective Exercise Specialist credentialing examination
Get started now!
Learn more about North-West College and our programs.