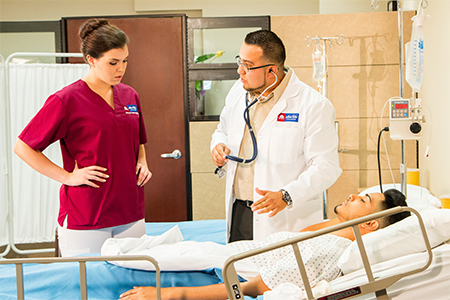 Medical Assistant
Working the front lines of patient care
Student Success Stories
"I came to North West College Riverside campus not knowing what I wanted to do in life. I learned to have compassion and understand the patients. I have a job now as a medical assistant and all I could say is I'm very grateful that I attended this college."
Elizabeth V. Ruiz, Medical Assistant
"I developed great self-esteem working with the staff and instructors of North-West College. They helped me so much I was able to move back to my home state and was employed by the first employer I submitted my application with. Thank you so much for the learning experience that I received from your school!"
Diantha Polley, Medical Assistant
"Tell us your story!
How did your experience at North-West College help you? Did our career services team help you find a job after you graduated? Have you been promoted to a new position?
If you have a story you would like to share, we would love to hear it! "
North-West Family
"Thanks to North-West College, I've had the opportunity to acquire skills that I needed to be successful! Thanks North-West!"
Gabrielle Maria Romero
Medical Assistant Course Material
The Medical Assistant program is divided into eight class course modules plus a 144-hour clinical externship where students will apply the skills they learn in the classroom in an actual health care practice setting.
After successful completion of the Medical Assistant program, the graduate will be qualified to work in doctor's offices, general medical clinics or urgent care clinics. The student will be able to perform the duties required for examinations, use diagnostic equipment, perform laboratory duties, and function in all phases of the business office, including having a working knowledge of data input on the computer. Graduates will be qualified to accept entry-level or middle-level positions.
Courses for this program include:
Seminar for Success- Orientation and success building course for Career Students. Review of basic math, language, vocabulary, and writing skills. Introduction to core career classes, availability of community resources, outlining, summarizing, managing credit, and other life skills
Medical Front Office (Secretarial I)- Medical Terminology & Abbreviations, Transcribing, Trade and Generic Medications, History of Medicine, Letter Writing, Bookkeeping/Daysheets, Banking, Payroll, Collections, Special Senses and Nervous Systems
Medical Insurance and Coding (Secretarial II)- Medical Terminology, Transcribing, Trade and Generic Medications, The Endocrine System, Making Appointments, Medical Ethics & Law, Insurance Terminology, CPT Coding, ICD-9 CM Coding, Insurance Billing (CMA-1500) for: Private Insurance, Medicare, Medi-Cal, SDI, & Worker's Compensation
Communications/Computers - Résumé, Cover Letters, Telephone Techniques, Rapport with Patients & Fellow Team Members, Introduction to Computers, Word, Excel, Medi-Soft, Processing Electronic Insurance Claims, & Creating Professional Quality Résumés
Office Procedures I - Medical Terminology, Medications (Administration and Dosage), Pharmacology, Use of the PDR, Metric System, Medication Conversions, Vital Signs, Injections, Physical Therapy Modalities, The Muscular, Respiratory, & Integumentary Systems
Office Procedures II - Medical Terminology, Instruments, Instrument Tray Set-ups Positioning Patients for Exams, First Aid/Bandaging, Aseptic Techniques, Autoclaving/Sterilization, Nutrition, Child Development, The Reproductive and Digestive Systems
Lab and EKG - Medical Terminology, Venipuncture, Hematocrits, Differential Slides: Staining & Viewing, Urinalysis, Basic Prep for X-Ray Exams, Taking and Mounting EKG's, Communicable Diseases, Classification of Bacteria, The Excretory, Skeletal, Lymphatic, & Cardiovascular Systems
Career Seminar - Internship Workshop, Career Readiness Workshops, New Student Orientation, and CPR Certification
Clinical Internship - Internship to apply the knowledge and skills learned in the classroom in an actual practice setting
Get started now!
Learn more about North-West College and our programs.