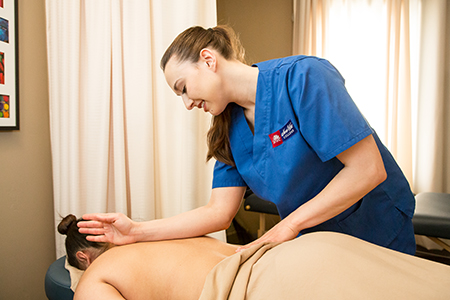 Massage Therapy
Using the healing power of touch to help others
Student Success Stories
"Tell us your story!
How did your experience at North-West College help you? Did our career services team help you find a job after you graduated? Have you been promoted to a new position?
If you have a story you would like to share, we would love to hear it! "
North-West Family
"I came to North West College Riverside campus not knowing what I wanted to do in life. I learned to have compassion and understand the patients. I have a job now as a medical assistant and all I could say is I'm very grateful that I attended this college."
Elizabeth V. Ruiz, Medical Assistant
"I developed great self-esteem working with the staff and instructors of North-West College. They helped me so much I was able to move back to my home state and was employed by the first employer I submitted my application with. Thank you so much for the learning experience that I received from your school!"
Diantha Polley, Medical Assistant
"Thanks to North-West College, I've had the opportunity to acquire skills that I needed to be successful! Thanks North-West!"
Gabrielle Maria Romero
Massage Therapy Course Material
The Massage Therapist program provides the basic knowledge, tools, ethics, and behaviors that will enable the student to successfully practice as a Massage Therapist in a variety of health care settings. Employment opportunities for Massage Therapy graduates include entry-level positions in massage offices and private practices, physicians' offices, hospitals and medical centers, chiropractic offices, nursing facilities, outpatient clinics, health clubs and fitness centers, spas and resorts, hotels, cruise ships, beauty and hair salons, pain management centers, and sports team facilities.
The program is divided into ten class course modules, including a 100-hour clinical externship where students will practice and apply the skills they learn in the classroom in a real-world setting.
Courses for this program include:
Seminar for Success - Orientation and success building course for Career Students. Review of basic math, language, vocabulary, and writing skills. Introduction to core career classes, availability of community resources, outlining, summarizing, managing credit and other life skills
Swedish Massage - Business Skills: Choosing a Business Status and Massage Setting, Basic Anatomy/Physiology: Integumentary, Skeletal, Muscular, Classification of Massage Movements, Swedish – Feet, Legs, Supine, Swedish – Legs, Prone, Swedish – Supine/Full-Body
Shiatsu - Business Skills, Marketing Shiatsu/Theories and Practices of Eastern, Modalities/Polarity, Basic Anatomy/Physiology: Circulatory, Nervous, Endocrine, Shiatsu – Head, Neck, Face, and Chair, Shiatsu – Supine and Side lying, Shiatsu – Prone
Sports Massage & Reflexology- Business Skills – Communications and Marketing, Basic Anatomy/Physiology: Pathology, Disease and Injury-Related Conditions, Overuse, Chronic and Acute Sports Injury/ Rehabilitation, Active Stretching and Muscle Energy Technique, Passive Positioning Techniques/Combined Reflexology, Pre- and post-event massage/Foot and Hand Reflexology
Spa Services/Wellness Strategies- Business Skills/Working in a Spa Environment, Basic Anatomy/Physiology: Respiratory, Digestive, and Excretory systems, Spa Treatments and Services/Hydrotherapy and Aromatherapy, Spot Treatments, Cellulite Treatments, Face and Scalp Massage, Client/Therapist Wellness: Stretching, Exercise, Breathing, and Other Techniques
Understanding Pain/Alternative Massage Methods- Business Skills – Ethics and Professionalism, Basic Anatomy/Physiology: Reproductive, Soft- tissue, Non-Western, Understanding Pain/Massage Strategies, Customization, Intentionality, Alternative Massage Methods: Craniosacral Therapy, Reiki, Therapeutic Touch, Alternative Massage Methods: Chair, Intuitive, Trigger Point, Somatic
Deep Tissue Massage/Alternative Massage Methods - Business Skills – Financial Skills, Basic Anatomy/Physiology: Kinesiology, Lymph-Vascular, and Immune systems, Deep Tissue – Back, Legs, Arms, Chest, Neck, Joint Mobilization and Range of Motion/Lymphatic Massage, Alternative Massage Methods: Massage for Nursing and Health care, Alternative Massage Methods: Prenatal, Postnatal, Infant Massage
Computers - Introduction to Computers, Word, Excel, Medi-Soft, Processing Electronic Insurance Claims, & Creating Professional Quality Résumés
Career Seminar - Internship Workshop (seminar for employment preparedness), Student Orientation, varying amounts of outside preparation and projects that must be completed for a grade, and CPR
Clinical Internship- Internship to apply the knowledge and skills learned in the classroom in an actual practice setting
Get started now!
Learn more about North-West College and our programs.