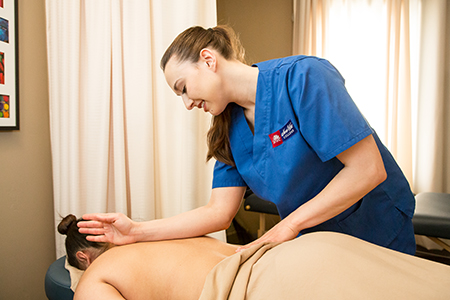 Massage Therapy
Using the healing power of touch to help others
Student Success Stories
"I developed great self-esteem working with the staff and instructors of North-West College. They helped me so much I was able to move back to my home state and was employed by the first employer I submitted my application with. Thank you so much for the learning experience that I received from your school!"
Diantha Polley, Medical Assistant
"Thanks to North-West College, I've had the opportunity to acquire skills that I needed to be successful! Thanks North-West!"
Gabrielle Maria Romero
"Tell us your story!
How did your experience at North-West College help you? Did our career services team help you find a job after you graduated? Have you been promoted to a new position?
If you have a story you would like to share, we would love to hear it! "
North-West Family
"I came to North West College Riverside campus not knowing what I wanted to do in life. I learned to have compassion and understand the patients. I have a job now as a medical assistant and all I could say is I'm very grateful that I attended this college."
Elizabeth V. Ruiz, Medical Assistant
Massage Therapy Course Activities
Massage Therapists treat clients by using touch to manipulate the muscles and other soft tissues of the body. With their touch, therapists relieve pain, help heal injuries, improve circulation, relieve stress, increase relaxation, and aid in the general wellness of clients.
Massage Therapists may use lotions and oils, and massage tables or chairs, when treating a client. A massage can be as short as 5–10 minutes or could last more than an hour.
Massage Therapists can specialize in many different types of massage or modalities. Swedish massage, deep-tissue massage, and sports massage are just a few of the many modalities of massage therapy. Most Massage Therapists specialize in several modalities, which require different techniques.
Massage Therapists typically perform the following tasks:
Talking with clients about their symptoms, medical history, and desired results.
Evaluating clients to locate painful or tense areas of the body.
Manipulating muscles and other soft tissues of the body.
Providing clients with guidance on stretching, strengthening, overall relaxation, and how to improve their posture.
Documenting clients' conditions and progress.
Get started now!
Learn more about North-West College and our programs.