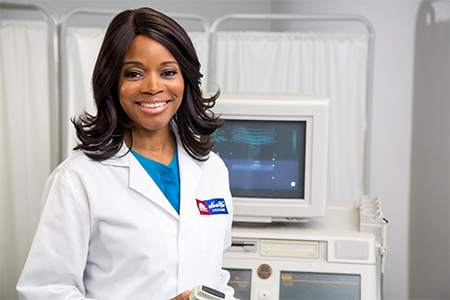 Diagnostic Medical Sonographer (Ultrasound Tech)
Helping physicians diagnose medical conditions through imaging technology
As imaging technology has continued to evolve, medical facilities continue to use ultrasound to replace more invasive, costly procedures. Ultrasound is often less expensive than other imaging technologies and is often used as a first-line tool for diagnosis. Third-party payers encourage the use of these noninvasive measures over invasive ones in order to save on costs. Diagnostic medical sonographers, cardiovascular technologists and technicians, and vascular technologists will continue to be needed in health care settings to provide an alternative to imaging techniques that involve radiation.
As the large Baby Boomer population ages, the need to diagnose medical conditions—such as blood clots and heart disease—will likely increase. Imaging technology is a tool used in making these diagnoses.
Additionally, the number of individuals who have access to health insurance is expected to ncrease because of federal health insurance reform. Diagnostic imaging workers will continue to be needed to use and maintain the equipment needed for diagnosis and treatment.
The Diagnostic Medical Sonographer (Ultrasound) program at North-West College trains students to develop the skills needed to perform diagnostic studies on patients using ultrasound equipment for diagnosis and interpretation by a physician.