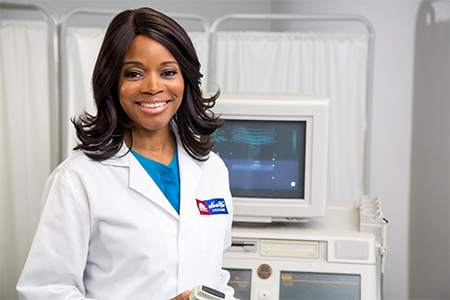 Diagnostic Medical Sonographer (Ultrasound Tech)
Helping physicians diagnose medical conditions through imaging technology
Student Success Stories
"I developed great self-esteem working with the staff and instructors of North-West College. They helped me so much I was able to move back to my home state and was employed by the first employer I submitted my application with. Thank you so much for the learning experience that I received from your school!"
Diantha Polley, Medical Assistant
"I came to North West College Riverside campus not knowing what I wanted to do in life. I learned to have compassion and understand the patients. I have a job now as a medical assistant and all I could say is I'm very grateful that I attended this college."
Elizabeth V. Ruiz, Medical Assistant
"Thanks to North-West College, I've had the opportunity to acquire skills that I needed to be successful! Thanks North-West!"
Gabrielle Maria Romero
"Tell us your story!
How did your experience at North-West College help you? Did our career services team help you find a job after you graduated? Have you been promoted to a new position?
If you have a story you would like to share, we would love to hear it! "
North-West Family
Diagnostic Medical Sonographer (Ultrasound Tech) Course Activities
Diagnostic Medical Sonographers (Ultrasound Technicians) specialize in creating images of the body's organs and tissues. The images are known as sonograms (or ultrasounds). Sonograms are often the first imaging test performed when disease is suspected. Diagnostic Medical Sonographers may work closely with physicians or surgeons before, during, and after procedures. The following are examples of types of diagnostic medical sonographers:
Abdominal sonographers specialize in imaging a patient's abdominal cavity and nearby organs, such as the kidney, liver, gallbladder, pancreas, or spleen. Abdominal sonographers may assist with biopsies or other examinations requiring ultrasound guidance.
Breast sonographers specialize in imaging a patient's breast tissues. Sonography can confirm the presence of cysts and tumors that may have been detected by the patient, physician, or a mammogram. Breast sonographers work closely with physicians and assist with procedures that track tumors and help to provide information for making decisions about the best treatment options for breast cancer patients.
Musculoskeletal sonographers specialize in imaging muscles, ligaments, tendons, and joints. These sonographers may assist with ultrasound guidance for injections, or during surgical procedures that deliver medication or treatment directly to affected tissues.
Pediatric sonographers specialize in imaging child and infant patients. Many of the medical conditions they image are associated with premature births or birth defects. Pediatric sonographers may work closely with pediatricians and other caregivers.
Obstetric and gynecologic sonographers specialize in imaging the female reproductive system. Many pregnant women receive sonograms to track the baby's growth and health. Obstetrical sonographers work closely with physicians in detecting congenital birth defects.
Diagnostic Medical Sonographers (Ultrasound Technicians) typically perform the following:
Preparing patients for procedures by taking a patient's medical history and answering any questions about the procedure.
Preparing and maintaining diagnostic imaging equipment.
Operate equipment to obtain diagnostic images or to conduct tests.
Reviewing images or test results to check for quality and adequate coverage of the areas needed for diagnoses.
Recognizing the difference between normal and abnormal images and other diagnostic information.
Analyzing diagnostic information to provide a summary of findings for physicians.
Record findings and keep track of patients' records.
Get started now!
Learn more about North-West College and our programs.