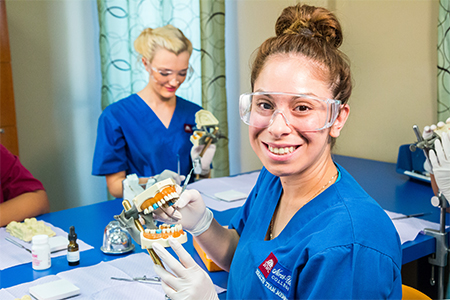 Dental Assistant
Keeping America Smiling
Student Success Stories
"Tell us your story!
How did your experience at North-West College help you? Did our career services team help you find a job after you graduated? Have you been promoted to a new position?
If you have a story you would like to share, we would love to hear it! "
North-West Family
"Thanks to North-West College, I've had the opportunity to acquire skills that I needed to be successful! Thanks North-West!"
Gabrielle Maria Romero
"I came to North West College Riverside campus not knowing what I wanted to do in life. I learned to have compassion and understand the patients. I have a job now as a medical assistant and all I could say is I'm very grateful that I attended this college."
Elizabeth V. Ruiz, Medical Assistant
"I developed great self-esteem working with the staff and instructors of North-West College. They helped me so much I was able to move back to my home state and was employed by the first employer I submitted my application with. Thank you so much for the learning experience that I received from your school!"
Diantha Polley, Medical Assistant
Dental Assistant Course Material
The Dental Assistant program will teach you to perform the skills required to work in most dental offices, including patient scheduling, record processing, insurance billing, chairside assisting, x-ray and dental imaging, coronal polishing and more.
The program is divided into eight class course modules plus a 180-hour clinical externship where students will apply the skills they learn in the classroom in an actual health care practice setting.
Courses for this program include:
Seminar for Success – Orientation and success building course for Career Students. Review of basic math, language, vocabulary, and writing skills. Introduction to core career classes, availability of community resources, outlining, summarizing, managing credit, and other life skills.
Secretarial/Computers – Professional Ethics Relating to the Dental Assistant, Patient Psychology, Dental Terminology, Oral Anatomy & Physiology, Oral Histology, Office Environment, Secretarial Skills, Telephone Techniques, Scheduling Appointments, Communication Skills, Payroll Information, Budgeting, Banking, Office Management, Rapport with Patients and Fellow Employees, Courtesy and Respect, Introduction to Computers, Word, Excel, Dental Office Management Program, Processing Insurance Claim Forms, Creating Professional Quality Résumés
Oral Hygiene – Coronal Polishing, Application of Topical Fluoride, Patient Education in Nutrition, Plaque Control, and Oral Hygiene, Application of Non-Aerosol & Non-Caustic Topical Agents, Placement and Removal of Periodontal Dressings
Specialties – Techniques Used in Dental Specialties, Placement of Orthodontic Separators, Placement and Removal of Ligatures & Arch Wires, Sizing Orthodontic Bands, Checking for Loose Bands, Taking of Intra-Oral Measurements for Orthodontic Procedures, Seating Adjusted Retainers & Headgear Including Appropriate Instructions, Placement & Removal of Post-Extraction Dressings, Suture Removal, Test Pulp Vitality, Obtain Endodontic Cultures, Dry Canals Previously Opened by the Supervising Dentist, Assisting in the Administration of Nitrous Oxide
X-Ray – X-Ray Safety Techniques, Components of the X-Ray Machine, X-Ray Exposure Techniques, X-Ray Processing Techniques, Use of BAI And XCP Instruments, Instruction in Techniques for Evaluation of Diagnostic Quality X-Rays, Mounting Full Mouth & Bitewing X-Rays, Types of Dental X-Ray Films, Proper Storage & Care of Exposed X-Ray Film
Dental Materials – Preparing Impression Materials, Filling Impression Trays & Syringes, Taking Impressions For Diagnostic & Opposing Models, Operation of Hydrocolloid Conditioner, Pouring Models of Tooth & Mouth Structures With The Use of Vibrating Machines, Trimming & Polishing Models, Sizing Stainless Steel Crowns, Fabrication of an Acrylic Temporary Crown
Chairside – Chairside Assisting for Four-Handed Dentistry, Use & Care of the Dental Unit, Use & Care of Operatory Equipment, Use & Care of Dental Instruments, Instrument Tray Set-Ups, Oral Pathology, Training in Basic OSHA Rules & Regulations, Various Methods & Techniques of Sterilization & Disinfection, Placement & Removal of Rubber Dams, Placing, Wedging & Removal of Matrices, Placing of Bases & Liners on Sound Dentin, Removal of Excess Cement Supragingivally, Preparing Materials for Restorative Dentistry, Amalgam, Acrylic, Resin, & Various Cements, Medical Office Emergencies
Career Seminar – Internship Workshop, Career Readiness Workshops, New Student Orientation, and CPR Certification.
Clinical Internship – Internship to apply the knowledge and skills learned in the classroom in an actual practice setting.
Dental Assistant graduates from the West Covina, Pomona and Glendale campuses receive a certificate of completion for x-rays and a certificate of completion for coronal polishing.
Get started now!
Learn more about North-West College and our programs.